By now, every kitchen should either have a set of beeswax wraps, or have made plans to get some.
For many, that might mean trying to make your own.
And while the ingredients list for a set of beeswax wraps is pretty small, one item does tend to stand out: jojoba oil.
A light golden oil with a slight nutty smell, jojoba oil is regularly used in the production of beeswax wraps.
When used in a beeswax wrap, it can improve the suppleness of the wrap, and aid antimicrobial properties.
If you want to live an ethical and waste free life, it's important to understand the use of everyday items.
In this guide, we can help you discover all you need to know about jojoba oil, and why you shouldn't leave it out of your beeswax wraps.
What is jojoba oil?
Jojoba oil comes from the seed of the jojoba plant, and it has a long history of use in America.
First collected by Native Americans of the O'odham tribe, it was applied to sores and wounds as a form of healing treatment.
Jojoba oil (pronounced ho-ho-bah) is harvested via cold pressing from seeds of the Simmondsia chinensis plant – more commonly known as the jojoba.
The seeds are placed in a seed press, which removes the oil and discards the outer shell.
This creates unrefined jojoba oil. The extracted oil is then bottled and sealed, and can be stored for a long period of time.
Commonly used in cosmetics, jojoba oil is also thought to be beneficial for the hair, nails, and skin.
Jojoba oil is soothing to skin, because it mimics the pH of sebum, the skin's natural moisturizer.
It also contains vitamin E, an antioxidant that can help fight oxidative stress.
Lab tests have also shown that jojoba oil has antimicrobial and antifungal properties.
Unrefined jojoba oil is a pale golden color, and often has a slight nutty scent to it.
A gentle oil, it can be applied directly to the skin, or combined with other oils.
Although most often used in cosmetics, other properties and potential uses of jojoba oil are being explored.
Why Use Jojoba Oil In Beeswax Wraps?
Beeswax wraps need to be pliable, so they can form a decent seal around your food, keeping it fresh and protected.
Although the beeswax is naturally pliable, it can lack some of the soft suppleness necessary to create a good wrap.
This is where the jojoba oil comes in.
Gentle jojoba oil remains soft and malleable when cooled, aiding the movement of the wraps, and removing any stiffness.
If you've had beeswax wraps that are prone to cracking, jojoba oil can add a little extra moisture to prevent this damage.
As movement is such an important part of the use of the wrap, jojoba oil can be seen as a vital ingredient.
It isn't just the malleability that makes jojoba oil so useful.
This incredible oil possesses both antimicrobial and antifungal properties, making it an antibacterial oil.
Although it won't protect against all potentially harmful bacterial and fungal species, it has been shown to offer protection against E.coli, salmonella, and candida.
Definitely helpful in a wrap that touches food.
Finally, there are some practical considerations for using jojoba to make your wraps.
The addition of jojoba to the initial beeswax mixture makes it slightly easier to spread.
The smooth oil moves across the fabric easily, saving you some struggle.
Can You Use Any Other Oil To Make Beeswax Wraps?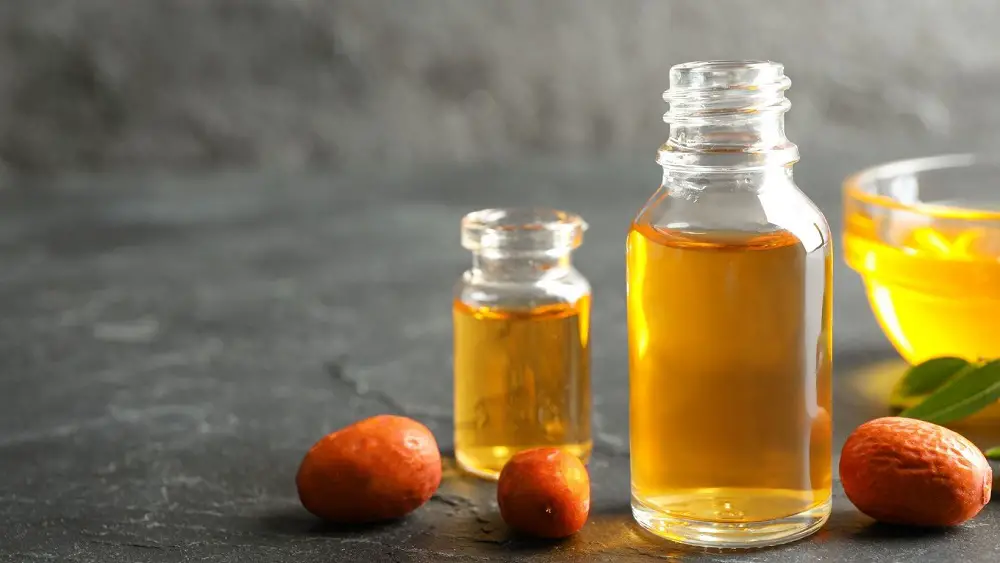 Yes, you can use other oils to make beeswax wraps. There are a few reasons why you may choose not to use jojoba oil to make your wraps.
Potential jojoba oil substitutes are: castor oil, extra virgin olive oil, sweet almond oil, and coconut oil.
Some people are allergic to jojoba oil, and it may cause a reaction. This allergic reaction most commonly occurs as a rash, an itch, or red skin.
However, in serious cases, it can cause the airways to close. If you, or someone in your household, has a jojoba allergy, it shouldn't be used in the wraps.
Jojoba oil can sometimes be difficult to source. Jojoba oil is generally only produced in small amounts, which can make it expensive.
Despite its range of uses, jojoba isn't sold as commonly as other cosmetic oils. Cheaper oils can work as a replacement.
Other oils add similar properties, but they have their own advantages and disadvantages.
Coconut oil can struggle with temperature changes, while olive oil could potentially turn rancid.
However, any food safe oil can be added to the beeswax mixture.
Can You Make Beeswax Wraps Without Jojoba Oil?
Yes, it's possible to make beeswax wraps without jojoba oil, you just might lose some pliability.
Even without the jojoba oil, beeswax has a naturally supple quality that makes it so perfect for food wraps.
Two common supplies used in the making of beeswax wraps are jojoba oil and pine resin.
Jojoba oil adds extra movement, and pine resin adds a tackiness to the wrap, helping it cling to containers.
These are heated with the beeswax, applied to a cotton square, and baked on.
However, both jojoba oil and pine resin are seen as additions, rather than necessities.
A perfectly good beeswax wrap can consist of just beeswax and fabric.
Although it may not be as soft and tacky, this simplified wrap can still protect food.
Adding jojoba oil is useful, but not a necessary step. Either replace it with a similar oil you have to hand, or leave it out altogether.
Your wraps will still be fantastic.
Final thoughts
Jojoba oil has been used for decades in cosmetics, but people are once again taking note of its antibacterial properties.
With a soft finish and malleable movement, jojoba oil is an excellent addition to beeswax wraps.
By adding it to your wax, you can keep your food safe and protected.