One thing every home has in common is reusable paper towels. There's a roll in the kitchen, garage, laundry room, and anywhere else spills and messes are prone to happen. Paper towels are convenient, effective, and best of all there's no laundry to do. You just toss the used paper towel in the trash can.
Have you thought about where your dirty paper towels go? With an estimated 321 million Americans disposing of paper towels annually, that's a lot of waste going into landfills. Did you know there's a better eco-friendly option?
It's also more cost-effective. Instead of purchasing disposable products, consider going with reusable paper towels.
If you're new to this eco-friendly product here's everything you need to know about reusable paper towels, starting with product reviews.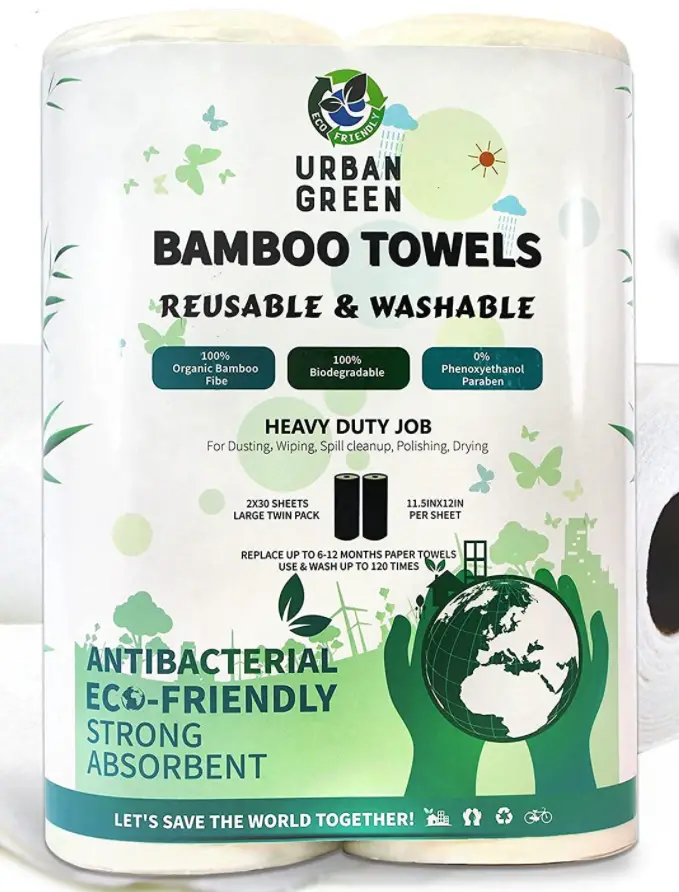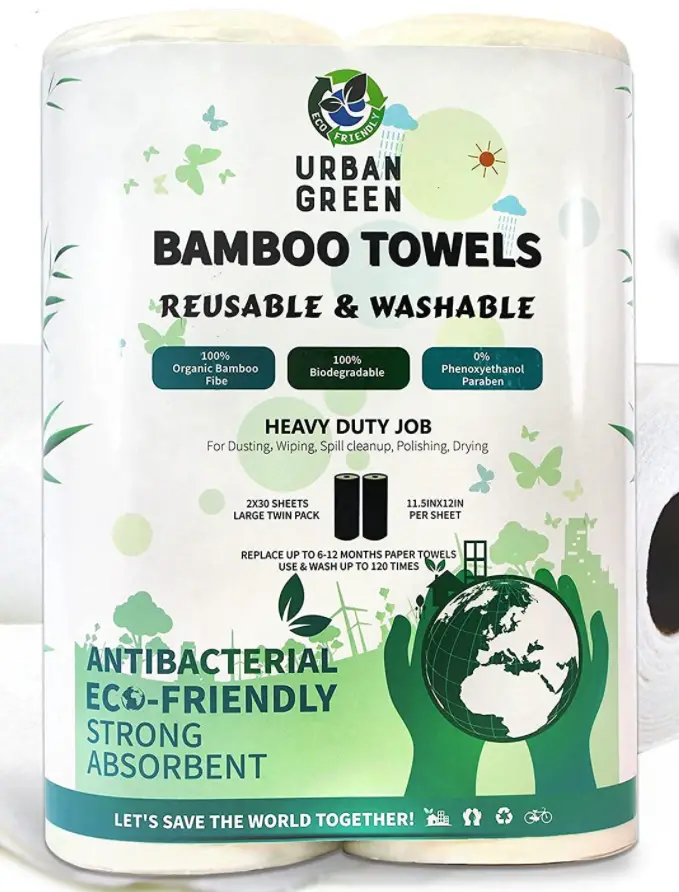 You can do everything with these reusable paper towels as you can with disposable ones and more. Made from sustainably sourced bamboo, the sheets are incredibly soft. You can use the towels as baby wipes and safely remove makeup.
The towels have natural antibacterial properties and also repel odors. The thick towels are even compatible with most removable pad-style floor mops. Clean your car windows, wipe up counter spills, and dust shelves.
The list is almost endless. The towels are also easy to clean. Rinse them out in the sink and hang the towels up to dry.
Pros
Made from sustainably-sourced bamboo
Comes in a two-pack with 60 reusable sheets per roll
Thick enough to use with a floor mop
Cons
The towels can start collecting lint after multiple uses.

Reduce waste and deforestation with these bamboo paper towels from AM NoLimited. The thick and absorbent towels work great on all of your home cleaning projects. Wipe up any floor and countertop spills with ease. The towels also are great for dusting, and soft enough to make ideal napkins.
The durable paper towels are designed to last through up to one hundred washes without disintegrating. With twenty sheets per roll, you don't need to buy paper towels for months.
Not only are you doing something good for the planet, but also your wallet. Wash the sheets in cold water to keep them soft and absorbent. Line dry and reuse as needed.
Pros
The reusable sheets are free from synthetics and chemicals
Made from sustainable bamboo fibers
Strong enough to put in the washing machine
Cons
The paper towels can develop holes after one or two washes.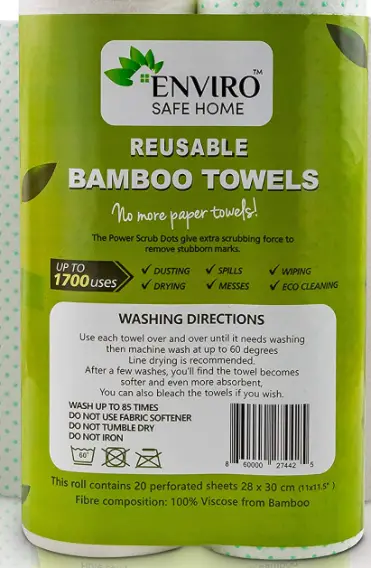 You can choose between two types of reusable paper towels from Enviro Safe Home. One type has a scrubbing side so you can tackle sticky messes on counters and pans, while the other comes with a soft side to effectively wipe up spills. You can easily tackle any cleaning project with these bamboo paper towels.
These sustainable paper towels are absorbent and durable. You can use the sheets up to eighty-five times before tossing them out. Imagine how much money you can save by not replacing your paper towels for a few months.
The paper towels are washable, just hang them up to dry, and they're ready for use again.
Pros
Two types of reusable bamboo paper towels to choose from
Durable, absorbent, and soft enough to use on your skin
The scrubbing dots can clean anything from sticky counters to burnt food stuck on pans.
Cons
The paper towels are made from viscose bamboo, not plant fibers.

There's a lot to like about these eco-friendly paper towels starting with their bright and cheery design. Each of the twelve sheets is printed with whole and sliced lemons. The sheets are a blend of eco-friendly cotton and flannel, they won't disintegrate or gather lint in the wash. You can also toss the towels in the dryer.
The cotton flannel towels come on a recycled cardboard roll that fits on almost any sized paper towel holder. Just fold the sheets around the tube and slip it onto the holder.
There's almost no limit on how many times you can reuse these sustainable paper towels.
Pros
Each towel has a cheery design to brighten up the room
The paper towels are machine washable and dryer safe
You don't have to worry about the towels falling apart after a few uses
Cons
The towels often shrink after the first wash.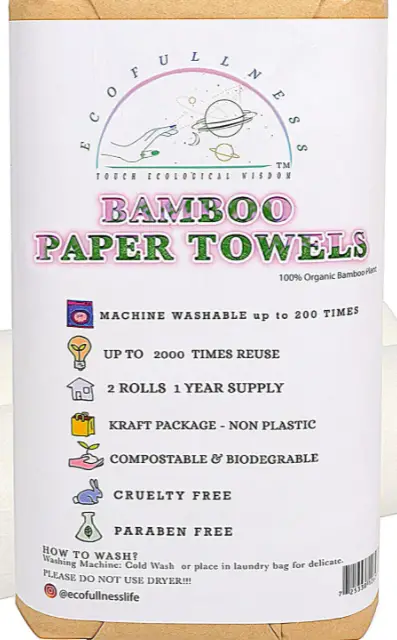 These bamboo paper towels are perfect for cleanups at home, work, or in the car. The towels are made from sustainable bamboo, so you can feel good about helping to reduce deforestation. The sheets are perforated for convenience. Just rip a sheet off of the roll and wipe up the mess.
The roll of twenty sheets is machine washable, but line dry instead of putting them in the dryer. Each sheet is designed to last through up to two hundred washes, reducing the amount of money you spend on cleaning supplies.
The lint-free paper towels are also safe to use on any surface.
Pros
Designed to last for up to two hundred washes
The sheets are perforated for easy use
Each of the two rolls comes with 20 sheets
Cons
The bamboo paper towels are smaller in size than some other brands.
Best Reusable Paper Towels Buying Guide
Going green has gone from a movement to a popular way of life, and one of the most used items in homes and businesses is paper towels. Most of these paper towels go into the trash after one use.
With paper products accounting for an estimated 40% of the trash in landfills, it makes sense to switch to a sustainable product.
Before you grab a roll of reusable paper towels or order reusable paper towels online, you want to make sure you are getting the best eco-friendly product for your home and your money.
Price
Try not to wince at the price. Reusable paper towels are more expensive than one-time-use brands. What you want to remember is one roll of eco-friendly paper towels will last for months.
Overall, you are saving money since they don't need replacing as often.
The price varies on reusable paper towels by brand and materials. Inexpensive products save you money upfront but often don't last as long as the higher-priced brands.
If you don't want to pay top dollar, look for a middle-priced brand. You still get durability without going over your cleaning supply budget.
Material
Green paper towels are usually made from bamboo fibers, but some are constructed with viscose. Unlike the fibers, bamboo viscose is not recyclable or biodegradable due to the chemicals used in the manufacturing process.
Other reusable paper towels are blended cotton flannel. Make sure the cotton is organic and sustainably sourced. These kitchen and bath towels usually last longer than bamboo varieties but also come at a higher price.
Design
If you like decorative paper towels, you don't have to give them up. You can find reusable kitchen and bath paper towels with designs. Make sure the ink or dye used for the designs is eco-friendly. Some are recyclable, while others end up in landfills.
Perforated sheets are always convenient. Just rip a sheet off, and you're instantly cleaning up the mess. Some reusable paper towels are perforated, while others are sheets folded around the roll.
Frequently Asked Questions
Are reusable paper towels sanitary?
Reusable paper towels are sanitary after washing them according to the manufacturer's instructions. You may want to use an anti-bacterial soap on cotton ones, but paper towels made from bamboo have natural antibacterial properties.
How many reusable paper towels do I need?
There's no exact answer to this question it depends on your household. Larger families will use more paper towels, while smaller ones usually need less. Take a look at your environment. Are you constantly wiping up spills or only occasionally dusting before visitors stop by?
As you start switching to green products, start with a roll of ten or more reusable paper towels. You can always order another roll if necessary.
Is it better to use reusable paper towels or cloth?
Cloth towels are versatile, more so than the thinner reusable paper towels. Cloth ones also last longer, but they have disadvantages. Cloth towels are harder to clean and take longer to dry. You also have to worry about lingering germs and bacteria.
Reusable bamboo fiber paper towels are anti-bacterial and easy to clean. They also dry faster than cotton ones. Some jobs are better suited for one or the other it's a good idea to keep both reusable and cloth towels in your eco-friendly home.
How harmful are paper towels?
Unlike reusable paper towels, disposable ones often contain chemicals like chlorine and formaldehyde. These chemicals prevent one-use paper towels from being recycled. They are also harmful to the environment and your skin.
Conclusion
It may seem like switching to reusable paper towels isn't going to have a big effect on the environment, but you might be surprised.
Using bamboo or other sustainable towels helps decrease deforestation, reducing the number of chemicals in a landfill, along with tons of paper waste.
You also get the same or better performance from reusable paper towels, making it even harder to come up with a reason not to switch to these eco-friendly products.