Everyone loves to recieve gifts, especially when they're given to us by someone we love and wrapped beautifully with wrapping paper, ribbons, and gift tags.
After a big birthday bash or a family gathering at Christmas, there can be a lot of used wrapping paper left over. Many people mindlessly scrunch all of this up and put it in a refuse sack and toss it to the curb to eventually end up in landfill.
And with the US alone producing over 227,000 miles of wrapping paper every Christmas, it's plain to see how much of a problem this can be for the planet. So, is there a greener way to dispose of used wrapping paper?
Fortunately, there is. Some wrapping paper can be recycled, which prevents it from ending up in ever-growing landfill sites across the country.
Even though it is labeled as paper, not all of it is recyclable. This is because it frequently incorporates non-recyclable materials like dyes, metal, glitter, colorful patterns, and plastics.
It'll also probably be covered with adhesive tape, something that can't be recycled.
And that is before you include stuff like gift bags, which are frequently unable to be salvaged because of their plastic content.
Wrapping paper is also relatively thin and contains few high-quality fibres for recycling; hence, higher-quality, thicker wrapping paper is probably preferable. If you purchased recyclable wrapping paper, though, you could possibly recycle it again.
What Kind Of Wrapping Paper Is Recyclable?
Wrapping paper that is simple, non-laminated, created from recyclable materials, but not too flimsy will generally be recyclable. When paper is extremely thin, there are few high quality fibres available for reprocessing.
Wrapping paper with rhinestones, sparkles, beads, metal, synthetic texturing, adhesive present tags, or plastics cannot be recycled. It can't be recycled if it has been laminated or if there's still a lot of residual glue, bows, or flowers on it.
One of the easiest ways to determine whether or not your wrapping paper is recyclable is to do a scrunch test.
While it doesn't always work flawlessly, it's a great rule of thumb to follow when you're unsure about your particular wrapping paper type. 
Start by taking your wrapping paper in your hand and scrunching it all up into a tight ball. Next, open up your palm and observe the ball of paper – If the paper stays as it is, in the ball shape, it's most likely recyclable.
However, if your scrunched ball of wrapping paper flings back into a flat paper sheet when you open your hand, then it's almost certainly not able to be recycled.
Of course, we only recommend trying the scrunch test with used wrapping paper, and it's probably best not to try out this method in a store when you haven't yet purchased the paper; even if your intentions are pure. 
How Can I Recycle Used Wrapping Paper?
Before you throw the wrapping paper inside the recycling bin, be certain that all bows, present labels, adhesive, and other decorations have been discarded.
Recycling facilities face a big challenge when there is a mixture of biodegradable and non recyclable papers, and they frequently end up throwing everything out since they can't sort it out.
This is called wish cycling, and it creates enormous issues with all kinds of materials, not only wrapping paper, all year long.
Check to see if your county, state, or municipality welcomes wrapping paper, because even if the paper is biodegradable, each region's legislation will determine if it is accepted.
Can I Reduce Wrapping Paper Waste?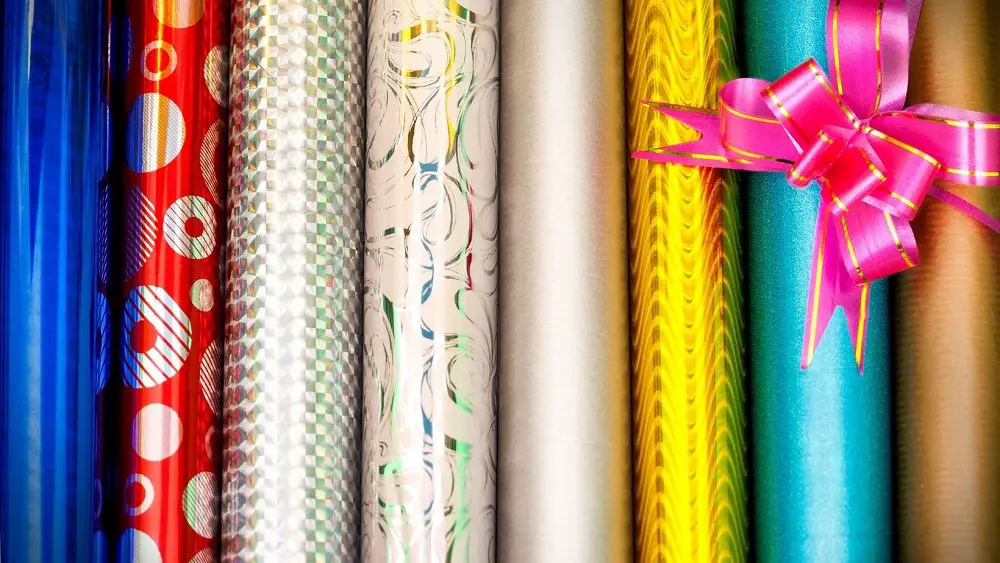 Yes! Fortunately, you can help to lessen the amount of wrapping paper that ends up in landfill by taking a few small steps. Try these ideas:
Wrapping paper has a very short life cycle that it could be repurposed more than once, — particularly if care is taken not to damage it when unwrapping it. The United States produces 4.6 million pounds of wrapping paper each year, with 2.3 million pounds of that going to waste. The rest is stored in people's houses, waiting to be repurposed.
Use plain brown paper with a ribbon, flowers, foliage, pinecones, or pencils to dress it up. Newspaper, old flyers, and kids' school paintings can all be used as wrapping material. There are a plethora of additional sustainable and environmentally friendly wrapping paper options that are both pleasant and festive.
Opt for Zero Waste solutions
To cover and expose your gifts, use hampers, cloth, gift boxes or sacks, kitchen towels, and other items. Learn how to make furoshiki, a Japanese art form that involves tying exquisite knots to connect bright, reusable materials in appealing patterns. You won't have to deal with any wrapping paper waste this way.
Generally speaking, the more extravagant the paper, the more unlikely it is to be able to be recycled. Wrapping paper that has been coloured, laminated, or contains non-paper materials like foiling, glitter, decorations, or plastics will not be recycled. So, reserve the most expensive wrapping paper for the most exceptional events and use lovely paper that can be recycled for the others.
What About Tissue Paper?
Tissue paper is usually not recyclable since it is formed of recovered paper fibres that are too tiny to be reused. Most waste disposal facilities lack the capacity to sort the materials, and finding consumers prepared to pay for it is difficult. As a result, many recyclers refuse to accept tissue paper, even if it is classified as recyclable.
What About Ribbons?
Most probably, the answer is no. All of the bright, curling ribbons and adhesive bows that we purchase and use from larger retailers can't be recycled. There are, however, environmentally friendly options available.
These options tend to come in simple colors and haven't been dyed. These types of biodegradable ribbon are surprisingly durable and strong, so you won't have to worry about it coming untied or getting damaged before you get a chance to give it.